What to Expect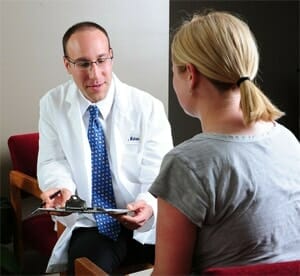 Weight management is more than stepping on a scale. 
Our approach builds from the concept that weight management and wellness is primarily about people, not pounds. You can count on us to:
Understand and respect your unique needs.No silver bullets, no one-size-fits-all diet plans.We meet you where you are – not the other way around. Our role is to help you find an enjoyable and lasting path to a healthy life.  We combine your knowledge and ours, show you new skills, and work together to apply the art and science of managing weight and health to your life.Everyone's different. And every plan is different. We work with you to find what's right for you.
Collaborate with you.It's your life. You're in charge. We're here to support you with great information, science, perspective, guidance, and encouragement, based on where you are and where you want to go.We want you to feel empowered and in control.  We don't judge, fuss, guilt or "shame."
Be objective and unbiased.Our central goal is to provide objective and unbiased support.

You'll never feel pressure to buy weight loss products

or sign up for diet plans or to do anything else. Our role is to partner with you in your personal weight management plan and help you implement it on your terms. Period. We're not here to sell you stuff.
Partner with you to build an individualized, strategic plan.There are many weight management "tools" that have a scientific basis and published evidence. But none are right for everyone.  We're not tied to any specific treatment or program. We never blindly prescribe any of these.  Our job is to help you figure out what works best for you.
See you as a whole person – not just a number on the scale.Managing weight is primarily about people, not pounds.  A lasting approach to weight management is built from looking at the whole person. The steps along the path are different for each person, and it all depends on your unique strengths and weaknesses.Our lives are complicated, so your weight plan has to consider the many facets of your life – for example, sometimes we suggest that others in your life (such as a spouse, primary care doctor, or therapist) collaborate with us, as needed.
Read about what to expect at your first appointment